A National Movement
to Protect Our Health
National consciousness around the dangers of coal ash significantly increased after the Kingston Coal Ash Disaster. This catastrophic dam breach, galvanized concerned citizens around the country to take action to protect human health and safety.  It also encouraged the U.S. Environmental Protection Agency to begin to develop potential safeguards around coal ash disposal, and assess the structural stability of some of the nation's coal ash dams. However, nearly four years after the Kingston spill, the EPA still hasn't finalized any rules controlling coal ash including how it's stored, handled, used, or transported.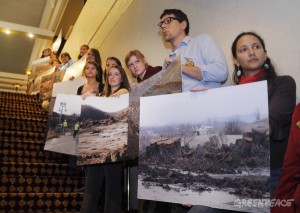 A team of environmental and social justice organizations, including Southern Alliance for Clean Energy, Southern Environmental Law Center, Appalachian Voices, North Carolina Conservation Network, and others, is acting to protect our waterways and our health from this toxic substance, with initiatives from federal and state policy engagement to public outreach and education, including through this website.
We are working with local organizations and individuals to collect new water quality data around selected Southeastern coal ash storage facilities. Currently, the little data available on storage facilities comes from utilities self-reporting to state and federal regulators. This data provides useful insight, but it is not enough. By establishing a "citizen monitoring program" we hope to gather additional data, so that we can better understand the impacts of ash pollution. We are also empowering citizens to get educated about and involved in addressing a major threat to their health and environment that has flown under the radar for too long.
Beyond this monitoring program, we are also involved in: