General Overview
In December, 2014, EPA released its long-awaited coal ash rule. EPA left enforcement of the rule to the utilities (and other owners) themselves, the states, and via citizen suits. But North Carolina has a troubling track record when it comes to protecting communicates from the dangers of coal ash.
North Carolina is home to 14 coal-fired power plants and a total of 50 coal ash impoundments. According to the EPA, North Carolina's impoundments have enough capacity to hold 19 billion gallons of coal ash. You can find each dumpsite's capacity by clicking a NC power plant on the homepage and scrolling down to Power Plant Details and Maps.
Annually, North Carolina's power plants generate 5.5 million tons of coal ash making the state 9th in the nation for coal ash generation. There are 13 documented damage cases where North Carolina power plants have contaminated water resources, and $1.5 billion worth of damage has been caused to NC communities in three of the state's worst documented cases at Belews Lake, Hyco Reservoir, and Mayo Reservoir.
On February 2, 2014, North Carolina became the site of the second largest coal ash spill in US history when a stormwater pipe under coal ash impoundments at Duke Energy's retired Dan River plant ruptured. The Dan River was fouled by an estimated 140,000 tons of coal ash and contaminated wastewater, spurring significant public outcry and uncovering questionable practices on the part of Duke Energy and the NC Department of Environmental Quality (called the Department of Environment and Natural Resources at the time).
Families living near many of Duke's unlined coal ash impoundments began receiving notices that their private wells may be unsafe to drink in April 2015. The Southern Environmental Law Center created a story map to show the spatial relationship between Duke's impoundments and the wells of concern and the test results for these wells. Check the tool out here. You can also find it on our homepage.
Legislation
After the catastrophic Dan River coal ash spill in 2014, the NC General Assembly passed CAMA to establish a process for cleaning up coal ash throughout NC. Under CAMA, DEQ was required to issue draft ratings of "high," "low," or "intermediate" risk for all 32 coal ash pits at Duke's 14 power plant sites across NC by December 31, 2015.Hundreds of North Carolinians from across the state attended over a dozen public hearings and submitted thousands of comments demanding that DEQ ensure proper coal ash clean up. Eventually, DEQ rated all of Duke's coal ash pits as
Hundreds of North Carolinians from across the state attended over a dozen public hearings and submitted thousands of comments demanding that DEQ ensure proper coal ash clean up. Eventually, DEQ rated all of Duke's coal ash pits as intermediate or high risk. However, shortly after this decision, NC's legislature passed and Governor Pat McCrory signed, a new bill that could allow Duke to escape requirements to properly clean up its ash if it supplies residents living near coal ash ponds with clean drinking water by 2018.
NC Communities Paying the Price
Click here to view a map of underground streams that flow beneath Duke's coal ash pits.
North Carolina did not require groundwater monitoring of coal ash dumpsites until 2010. Monitoring shows all of the Duke/Progress coal ash impoundments have contaminated groundwater with high levels of toxic heavy metals well above the state health standards. This isn't surprising, considering that most of North Carolina's coal ash dumps are located on the sites of buried streams, creating a direct connection to ground and surface waters. Additionally, Duke University conducted a study in 2012 that concluded facility discharges from Duke Energy's Asheville Plant exceed EPA standards. These studies and more maintain that Duke Energy is in direct violation of the Clean Water Act.
The Southern Environmental Law Center sued Duke Energy for illegal coal ash pollution at several facilities including Asheville, Sutton and Riverbend. The suit claims that coal ash at these facilities is polluting groundwater, the French Broad River, Cape Fear River, Mountain Island Lake, and the Catawba River with toxic chemicals such as thallium,arsenic and selenium. Alarmingly, the leaking coal ash impoundments at Riverbend are on the drinking water reservoir for at least 800,000 people in Charlotte NC.
Check out more information about coal ash in North Carolina and the EPA's coal plant water pollution standards for the state.
Create-Your-Own Coal Ash Report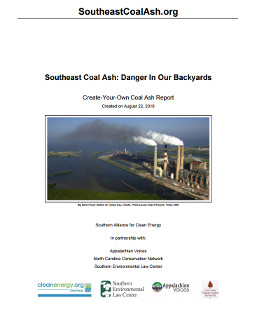 Full control to create the report of your choosing listing coal plants with ash impoundments in the Southeast.
Create your report NOW!
180 Seconds of Coal Ash Problems
So Many Ways To Say "Coal Ash"
There are a lot of words used to describe both coal ash waste and the ways in which it is stored. Coal ash is also called "coal combustion waste" (CCW) and "coal combustion residuals" (CCR). Wet coal ash impoundments are frequently known as "ponds," "lagoons," or "surface impoundments."